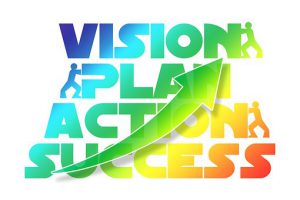 The business life cycle is made up of the following stages:
An idea (seedling)
Start-up Stage
Growth Stage
Established Stage
Decline Stage
Exit
The Idea (seedling) stage
The seed stage of your business lifecycle is when your business is just a thought or an idea.
Research: Be honest, is there a market for what you are offering
Business Plan: Get your idea down on paper, fill as many of the gaps as you can and then carry out more research to fill in the rest. Unless you document the idea you won't be able to identify any gaps
Business ownership structure: decide on the business ownership structure and finding professional advisors who can support you through the startup journey
Reality Check: Market acceptance is a difficult challenge during this phase
Focal Point:  Concentrate on matching your business idea with your skills and experience
Cash flow:  identify where you can get the cash needed to start up the business and enough to pay the overheads for 3-6 months. Be realistic in your cash projections. You will need to know your personal survival budget and the ongoing costs of the business, allowing for a slow start
Start-Up Stage
You are now a business in real terms with the legal responsibilities that are entailed in running a business.
Reality Check: In this phase, you may find that you have overestimated interest in your company and underestimated the finance.
Focal Point: Now you need to attract customers or investors if you haven't already done so. Identify those who are willing to provide the necessary property or investment
Cash Flow: Grants and investors. Customers willing to take a chance on you without you having a checkable work history. Make sure that you have enough money coming in to cover your personal survival budget.
Growth Stage
Income has increased during this phase and so have your commitments regarding time and money. Profits are increasing if you are being paid on time and are charging to make a profit.
Reality Check: At this point, you may outgrow your original plans and will need to revisit your business plan. You may have to source more suppliers or reluctantly turn customers away. You may need to employ staff which itself brings an added strain on your finances and time. Decide where you want to obtain your resources from for staffing and materials. There is also a risk during this phase that you will be approached by unknown companies to work in 'partnership' with them. It's tempting to accept these requests, however, carry out your due diligence before engaging with them as it's your reputation on the line as well as theirs.
Focal Point: You will need to manage the sales and the resources for this stage to ensure that you maximise this growth phase.
Cash Flow: Payment from customers, preferably on time. Re-investing into the business. Paying yourself enough to cover your personal survival budget.
Established Stage
Your business is now in the stage where you have a base of loyal repeat customers and your company is thriving. There are more feasts than famines during this phase. You have earned a place in the market and sales are manageable.
Reality Check: It's tempting to sit back and pat yourself on the back during this stage however once you fall into that trap it's harder to find the momentum to get going again. The market is so competitive and your competitors will be watching for when you are sitting back. You will need to stay focused during this phase.
Focal Point: Being established doesn't mean plodding along, it means you've earned the right to a share of the market, however, changing customer tastes, competitors and the economy can change your business income rapidly. Look at ways to improve productivity during this phase. Now might also be a good time to look at other income streams to ensure you stay relevant and in the marketplace.
Cash Flow: Salaries/Wages need to be considered during this phase, are you getting value for money from suppliers? Is there an opportunity to negotiate a better rate with suppliers as you're now an established business. This will increase your working capital and put you in a stronger financial position for the next phase.
Expansion Stage
This is an exciting time if you have found other income streams that you've explored. Revenue will increase during this phase and investment will be necessary for that to happen. You will be in a better position to negotiate for higher value contracts with a greater profit margin.
Reality Check: Research needs to be carried out before you can fully enter this stage. New markets need to be explored. Partnerships can be formed to increase your possible income streams. Working with businesses that match your ethos, have a great reputation.
Focal Point: When carrying out research into new markets or possible income streams be mindful that you need to expand into areas that you within your capabilities. If you decide to diversify into new markets it will not only cost you more but may lead to failure.
Cash Flow: Approach reputable lenders who specialise in business finance. Ensure that you have an accurate cash flow document as well as a forecast for the next 12 months based on previous trading and projected figures for growth.
Decline Stage
Decline is not a natural stage of the business cycle. Some of the reasons for the decline will be beyond your control such as the economy. This stage can result in many businesses quickly failing.
Reality Check: There is usually some warning during this stage such as a reduction in sales and profits. This will result in a negative cash flow situation and at that point, you need to decide whether to fight on and try to recover or cease to trade. Whichever route you choose you need to make the decision sooner rather than later. Decide how long you can sustain the business that is losing money.
Focal Point: Start the search for new opportunities. Reducing costs and finding ways to sustain cash flow is essential during this stage
Cash Flow: Ensure that the business essentials are paid, ensure that your survival budget is accounted for every month to protect your family and home. Check if your customers are paying you on time, if not get tough! Negotiate better terms with the suppliers. Talk to the suppliers so they know you WANT to pay but funds are in short supply, do not bury your head. Most creditors will negotiate with you if you just talk to them. Speak to the stakeholders, they may be willing to invest more money. Above all else, if you are owed money don't request finance until you have collected the money owed to you. If you are owed £50k and need a cash injection of £50k you won't receive the investment!
Exit Stage
The exit can be due to retirement, ill health, boredom or no longer a viable business. It is the big opportunity for your business to cash out on all the effort and years of hard work. Or it can mean shutting down the business.
Reality Check: To sell the business an accurate and realistic valuation is needed. Although you have put your heart and soul into the business you are unlikely to be recompensed for this. You will need to keep emotions out of this stage. Decide where the real value lies within the business such as it's place within the market or its exclusive client base. If you decide to close the business you will need to ensure that the key investors and priority creditors are the first to receive any cash that remains in the business. The impact of this stage is not only financial but emotional too.
Focal Point: Obtain a valuation and look at all aspects of the business such as operations, management and client base to make the company worth more to a potential buyer. Buyers have their own criteria when selecting what companies to buy.
Cash Flow: Consult with your accountant or financial advisor. Keep your eye on the finances. Find out your options regarding whether to sell or close the business if the business has assets worth selling.
Change within a business is inevitable and how you manage the change will have an impact on whether your business will be a success or a failure. Understanding the cycle for your business will help you foresee the challenges you are facing and will enable you to make the best possible decision for your business