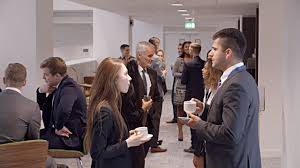 The True Cost of Networking
When I set up my first limited company in the SME market I wrote the following article, it's as relevant today as it was back then. If your business model requires networking you may find this useful:
Networking is defined by Google as interacting with others to exchange information and develop professional or social contacts.
As a small business owner I understand the need to network and I enjoy the contact with other business owners, it's a lonely world owning a small business! I'm a cash flow specialist so I look at the monetary value along with the other factors.
In 2012 I started networking, I entered a whole new exciting world where I could chat with other like minded people. I was naive and thought everyone was equal and there for the same purpose as I was, to build my list of contacts that could lead to business. I thought everyone would want to chat and swap information this wasn't the case and my experiences in the first few months meant that I didn't network again for over a year and this cost me a great deal.
The first networking event was well attended, there were over 25 people there, I was nervous but confident so I threw myself in! I chatted to as many people as I could but I noticed by the end of the first event that I had taken over 20 cards and not handed any out! I had also been spoken at and had not had the opportunity to let people know what I do. I also felt battle weary when I got home. I thought I'd give it a further go so I went to several more but instead of building my confidence it knocked it. I found that people thrust their cards at me regardless of whether I wanted them to or not.
So what did I learn?
The cost of this experience:
Non financial:
Non billable time
Almost 100 business cards handed to me of which I could only remember less than 10 of the people who handed them to me
Cost of attending the event – quite costly as it turns out!
My own sanity!
Financial:
Total cost for 3 months networking:
Events total £480 – this excludes the free events and the free trial events
Total work generated £0
If I had joined the associations that I had the free trials with the annual cost of networking for these events alone came to £1,560!
I made the decision that networking wasn't for me, I decided to try the cold calling route. I had, in effect, given up on the true purpose of networking- to build contacts and relationships. I spent over a year avoiding networking events.
And now……..
Fast forward to the last 6 months- the cold calling didn't work out as well as I had hoped, I had missed the point, people buy from people! By cold calling I had missed out the vital step- they don't know me, they are buying a concept not a person.
About 6 months ago I joined a pay as you go networking group and it is the best decision I have made, I build mutually beneficial relationships with people who want to buy from people. They can see me and see if I am who they are looking to do business with or not. I enjoy the meet ups so much more, I do tend to spot the newbies at these events and help ease them in to the world of networking.
The lessons I have learned……………….
The cost of networking, for me, has changed and I follow a few basic rules:
Set a monthly budget that you are willing to spend on Networking- there are events out there that are free and very good, there are several paid events that you don't need to sign up and pay membership for they follow a PAYG format. I set my budget low and stick to it
Go in a positive frame of mind- if you've had a bad day leave it at the door. People do pick up on negative energy and may avoid you
Choose event start times to suit you- if you are a morning person then attend the morning events.
Don't treat it like a speed dating event, it's better to talk to 3 people that you connect with than 20 that you don't
Follow up on the meetings with a call or email. I have many follow up coffees if I believe there is benefit to both sides
Have a good time! It's time you will never get back. It's non billable time however it doesn't have to be non added value time
Set a budget- I have a very low monthly budget that I spend around 60% of per month, this focuses your attention
To conclude………
Networking is about building relationships not about the sell. I have clients now that I have received through taking the time to build relationships. The networking relationship is built on mutual respect.